All Posts
Category: History &nbspListing Date: 2014-07-25

Love Letters
THE STORY OF A MARRIAGE, A MONUMENT, AND A MOMENT IN HISTORY
Love Letters from Mount Rushmore
---
Talking about "Love Letters from Mount Rushmore" over dinner at a nice restaurant is a great way to spend an evening with friends. Richard Cerasani's new book is a wonderful read and discussing it and other bits of history was most enjoyable.
Arthur J. Cerasani worked at Mount Rushmore National Memorial in 1940. During his time at the monument Mr. Cerasani and his wife Mary exchanged many letters. Son Richard, the author, discovered the letters in the attic of the family home and they are the centerpiece of the book.
This was a difficult period and particularly tough for a young family having to spend time apart. Mrs. Cerasani was back home in New York raising two sons while Arthur was working at Rushmore. How he got the job is very interesting but we won't get into the content of the book here.
Richard Cerasani may be best known by his professional name, Richard Caine. His career as an actor included three years as the villain, Bill Watson, on the General Hospital television show. from www.richardcerasanicaine.com.
Richard Cerasani is a charming and friendly gentleman with an "easy to visit with" personality. We know this now first hand as he was at our table this evening. As mentioned earlier, dinner with friends is a great way to spend and evening. Hopefully we are not being too presumptuous, we can now call Richard Cerasani our friend.
Mount Rushmore National Memorial was but one of the resources used in preparing this book.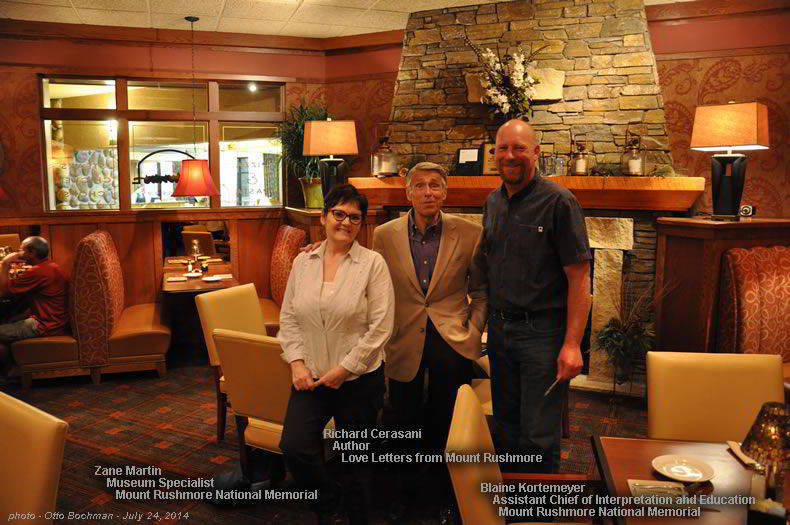 Zane Martin - Richard Cerasani - Blaine Kortemeyer
Posted with keywords: love, letters, from, mount, rushmore, book, richard, cerasani, caine, south dakota