All Posts
Category: Waypoint &nbspListing Date: 2014-12-23

Leslie Jensen
LESLIE JENSEN SCENIC DRIVE
This highway along Fall River is dedicated to Leslie Jensen 15th Governor of South Dakota 1937- 1939, a native of Hot Springs, and a son of Chris Jensen, Black Hills Pioneer and Lillie May Haxby Jensen. Educated in Hot Springs, Culver Military Academy and the University of South Dakota, he took an early interest in the Military and was a Lieutenant in the 4th South Dakota Infantry on the Mexican Border in 1916-17 and when that organization became the 147th Field Artillery in World War I, he went to France with it and was the Regimental Adjutant. Staying with the 147th, he was its Lieutenant Colonel in 1937 when, as Governor, he became his own Commander - in - Chief. Promoted to Colonel in 1941, he took his Regiment to the South Pacific in World War II and when the Regiment was battalionized in 1943, he served with distinction as a Base Commander on the staff of the Commanding General of the Sixth Army. In 1921 he was appointed Collector of Internal Revenue for the District of South Dakota serving until 1934 when he returned to Hot Springs and to the telephone business which his father had started in 1894. His administration, in 1937, initiated a Highway Construction program of great economic and social benefit to his native state.
LESLIE JENSEN SCENIC DRIVE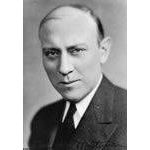 Leslie Jensen
ERECTED 1962 BY FRIENDS OF LESLIE JENSEN AND THE STATE HIGHWAY COMMISSION
Leslie Jensen 15th Governor of South Dakota 1937- 1939, died December 14, 1964.
Posted with keywords: leslie, jensen, governor, south dakota, sd, hot springs, highway, waypoint, scenic,